Welcome to the new PFRW Website
Please excuse our mess as we finish building our new website. We are gearing up for this year's campaign and will be adding more information to our site on a regular basis.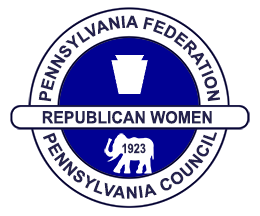 Pennsylvania's Republican Women have always been a formidable force. Since 1923 we have been changing the face of politics throughout the Commonwealth! Organized to serve as a network for Republican Women interested in good government and Republican ideals, we confer with Republican Leaders, manage campaigns, advise officials and WE RUN FOR OFFICE! Above all, we get Republicans elected!
ORGANIZATION

The Federation is comprised of Local Councils from across the Commonwealth. We are governed by a Board of Directors consisting of our Executive Committee, Regional Directors and Standing and Special Committees. Our Board meets at least four times a year and the business of the organization culminates at our Biennial Meeting usually held in September or October.
2015-2016 PFRW Executive Board
Mary Barket, President, Northampton County
Josephine Ferro, First Vice President, Monroe County
Suzanne Connelly, Second Vice President, Bucks County
Bernadette Comfort, Recording Secretary, Lehigh County
Dawnlyn Valli, Corresponding Secretary, Beaver County
Janet Ingalls VanDine, Treasurer, Lycoming County
Patricia Felix, Assistant Treasurer, Northampton County
Meryl Hatton, Immediate Past President, Allegheny County

CONTACT US
We would be happy to connect you to one of our Councils around the state for Membership Information.
When contacting us, in addition to your email address, please provide a telephone contact number and the county where you reside.
We would be pleased to hear from you! Please let us know what your needs and questions are, we will be more than happy to help.